Review: "24: Live Another Day" on Fox
By Douglas Pucci

After a four-year absence, America's favorite anti-hero, Jack Bauer (Kiefer Sutherland), returns in an all-new season of "24" entitled "24: Live Another Day." It premieres on Monday, May 5 from 8-10 p.m. ET on Fox. Bauer's exile from the United States (as depicted from the 2010 finale) continues as we now discover him in London, helping thwart a covert plot to attack the U.S. President. As always, it is never a dull moment for Mr. Bauer.
Some of the new people featured on the series this upcoming season include Yvonne Strahovski (returning to TV as a covert agent, from "Chuck"), Benjamin Bratt ("Law and Order"), Michelle Fairley ("Game of Thrones") and Tate Donovan (most recently from "Hostages"). The return of a few regulars of "24" are also featured: Kim Raver ("Grey's Anatomy," "Third Watch") as Jack's former girlfriend Audrey Heller and William Devane ("Knots Landing") as Audrey's father James Heller who is now POTUS.
Much like its eight-season original series run, there isn't a shortage of action on "24." Whereas most action shows and motion pictures look to amaze and awe the audience by explosions and fast-paced activity, a cornerstone of "24," which still remains, is how the story effectively builds towards each action sequence. The scenarios themselves are more striking than what any fireball or gunfight could produce. While some of the depicted action border on unbelievable, over-the-top status, the sense there is something at stake or in the balance for the characters involved still exists.
The two-hour premiere of "24: Live Another Day" isn't without its flaws, however. At the London bureau of the CIA, despite a huge force of U.S. agents, the lone person to find where the elusive Jack Bauer escaped to is Strahovski's character, the agent who's about to be relieved of her duties yet takes enough initiative (of course, sans the blessing of Bratt's character, her CIA director) to locate Bauer. Pretty unbelievable it seems.
At another moment, upon learning through secret channels that Jack Bauer is in London, the President's Chief of Staff (Donovan) advises one of his underlings that they must keep Bauer's whereabouts and mere identity secret. This includes his wife Audrey (Raver), who had suffered a mental breakdown because of Bauer back in season six. We could obviously see these efforts will be futile, as Jack and his former girlfriend Audrey will cross paths again somehow within this 12-episode season.
But the good qualities of "24: Live Another Day" far outweigh these minor plot glitches. The show's most notable returnee is Mary Lynn Rajskub as computer analyst Chloe O'Brian, a fan-favorite character from her start in season three. Although Jack Bauer believes himself to be a loner, Chloe usually manages to lend him a helping hand throughout many tasks and missions. In essence, Chloe is Jack's trusty sidekick.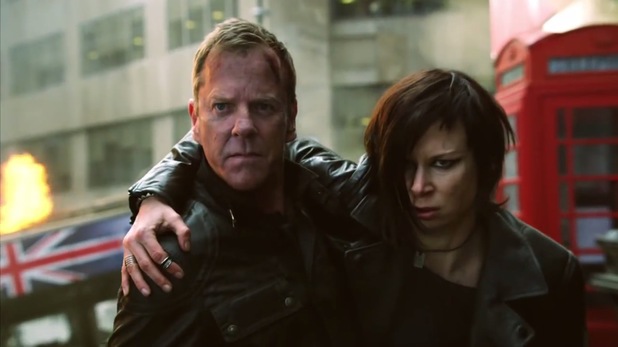 One of the premiere's most effective scenes involves a back-and-forth exchange of words between her and Jack at their first encounter since his fleeing of America. Jack — the atypical heroic character whose intentions are for the greater good, but is known to sometimes use comprising means to accomplish matters — offered up a criticism of some of Chloe's recent actions to which she responds, "You don't get to judge me… not after all I've been through." Yet, shorty thereafter, she doesn't hesitate to volunteer assisting Jack in another one of his pressing matters.
The original eight-season run was not without underwhelming moments, but each of its seasons had one thing in common: an addictive premiere. And this new season is no exception. Originally planned for a motion picture release, "24: Live Another Day" is geared towards any audience — its loyal fans as well as newcomers. The twists and turns alone are enough to intrigue any viewer. There are allusions to today's news that makes "24" feel current like drones in warfare and WikiLeaks. The subplot of Devane's presidential character suffering from early onset Alzheimer's (similar to Ronald Reagan) evokes the most depth of story. The return of the ominous sound of the ticking "24" digital clock only add to the thrills.
It would be the most shocking moment of this season if the new "24" isn't an immediate bona-fide ratings hit. With huge hype for its return, including a boffo promo during the most recent Super Bowl, "24: Live Another Day" doesn't disappoint. Fox is in desperate need of a new hit, and the welcome, familiar sight on television on Monday this summer will, no doubt, spark conversation at the proverbial water-cooler.
"24: Live Another Day"
Episode titles: "Day 9: 11:00 a.m. to 12:00 p.m." and "Day 9: 12:00 p.m. to 1:00 p.m."
Episode grade: B+




Tagged 24, 24: Live Another Day, Fox