Drama Cult DOA on The CW
CLEAN TUESDAY SWEEP FOR CBS
It was another clean Tuesday sweep for CBS care of NCIS, NCIS: Los Angeles and Vegas. NCIS topped the night with 20.93 million viewers and a 3.5 rating/10 share among adults 18-49 at 8 p.m. ET, according to the fast affiliate results from Nielsen, and spin-off NCIS: Los Angeles was perfectly compatible. But freshman Vegas on CBS slipped by 6.67 million viewers and 44 percent in the demo from NCIS: Los Angeles. None of the scripted dramas in the 10 p.m. hour – Smash on NBC and the season-premiere of Body of Proof on ABC included – resonated among adults 18-49. And 3.29 million viewers and a 0.9/ 2 in the demo will not warrant Smash a third season.
In series-premiere news, drama Cult on The CW was DOA at 941,000 viewers and a 0.3/ 1 among adults 18-49 at 9 p.m. There is no way to spin this…this dark hour of total confusion is a goner.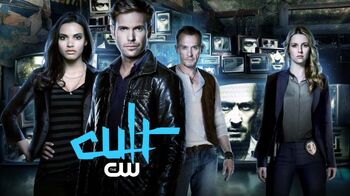 Elsewhere, 9-10 p.m. NBC sitcoms Go On and The New Normal are not benefitting minus the lead-in support from The Voice. Fox's two-hour sitcom block continues to lag. And even beloved Betty White did not get much mileage courtesy of Off Their Rockers on NBC. Click on the following for the fast affiliate results for Tuesday, February 19 broken out by network and by program: http://tinyurl.com/bhrooxk
Update (Friday 2/22/2013 1:44 a.m. EST): Broadcast and select cable final national ratings on the forum.