Dallas Review
By Douglas Pucci

Warning: Some of the following contains spoilers of the upcoming season.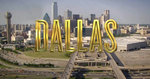 The primetime soap opera has been a presence on the small screen for over 40 years. This past season, the genre has been somewhat revived, thanks to ABC's buzz worthy drama, "Revenge." But no serialized drama, past or present, has dominated the worldwide television landscape quite like the granddaddy of them all, "Dallas." And it makes its return tonight in a highly anticipated revival on TNT, which immediately resonates like the original.
At one point, early in the first episode, we see perennial good guy Bobby Ewing (Patrick Duffy) tell his apparently ailing and depressed brother J.R. (Larry Hagman) that he desires the next generation of their family not to possess "all the bitterness and bad blood" among them. "I don't want them to be like us," he pleads.
But this is "Dallas," of course, and there is angst aplenty.
Three of the primary characters of the original series have all returned — the aforementioned Bobby and JR Ewing, as well as J.R.'s ex, Sue Ellen (Linda Gray). But the new series' focus is on their offspring — John Ross (Josh Henderson), J.R. and Sue Ellen's ambitious son, and Christopher (Jesse Metcalfe), Bobby's and Pam's well-intentioned lad. It is J.R. and Bobby all over again!
The oil business is immediately front and center, as John Ross and his business partner / girlfriend Elena (Jordana Brewster) discover the valuable substance deep under Southfork Ranch — an issue of sensitive concern to John Ross' uncle Bobby who wants to keep the land untouched, with respect to the wishes of his late mother, Miss Ellie. Christopher, meanwhile, aims to discover an alternative form of sellable energy, which also comes with its own complications.
Then, there are the many subplots surrounding the power struggle between John Ross versus Christopher, like marriage, love triangles, health scares, shady business tactics and double-crossing — all par for the course on "Dallas".
The most impressive aspect of this series return is how much juicy content (enough for viewers to sink their teeth into) is presented within such a limited amount of episodes — only 10 will air this summer, the first 7 of which were given for early preview to critics.
The updated version of the series was developed by Cynthia Cidre, who attempted to revive the serial genre a few years ago with her short-lived "Dallas"-esque drama, "Cane." Cidre is well within her element here, giving every storyline and each character their own due. There comes a time on the show when J.R. comes alive and springs into action once again, and this is when the new "Dallas" kicks into high gear. Hagman, in his most iconic role, has not been hampered by age. He thrives here, as we see his J.R. character immediately weave his way back into Dallas dominance. Classic J.R. to John Ross: "C'mon, give me some credit. Bobby may not be stupid, but I'm a-hell lot smarter!" And in another moment, while dealing in business with some questionable people, JR proclaims, "The best way to understand a man is to talk to his friends and his enemies. My friends are in the state house. My enemies are gonna be harder to find."
This return to Southfork is a triumphant one. Fans of the legendary drama will immediately take to this update – it revives the best of what "Dallas" was in its heyday. And it introduces a whole new generation to the clan called Ewing via the flawlessly cast Henderson, Metcalfe and, portraying Bobby Ewing's new wife Ann, Brenda Strong — all whom are no strangers to the serial genre, hailing from the recently-concluded hit, "Desperate Housewives".
But don't think this series return is merely a nice, pleasant one. Like J.R. Ewing, "Dallas" comes back with a vengeance as it aims to regain its status as a leader in the serialized drama genre.
Viewers, beware: the new "Dallas" is an absolute sizzler — scorchingly red-hot. And there is every reason to believe that fans, young and old alike, will be back in droves.
Welcome back, Ewings!
Grade: A