The Best of 2012
THE CREME OF THE TV CROP JUST IN TIME TO RING IN THE NEW YEAR

As we segue into the New Year, here are our top 10 picks for the best on television in 2012. Comedy, drama and reality…there was an equal mixture of each genre and proof that there is still no better medium to be regularly entertained than the small screen.
1. Homeland (Showtime)
The six-time Emmy winning scripted thriller did not miss a beat with Claire Danes as Carrie Mathison, a Central Intelligence Agency officer and Damian Lewis as the U.S. Marine Mathison she thinks is a threat to the United States.
2. Downton Abbey (PBS)
The family called Crawley and the servants who work for them in the post-Edwardian era is the ongoing focus of this addictive and buzz-worthy serialized drama. Coming up this season: Academy Award winner Shirley MacLaine as Martha Levinson, a widowed American heiress and mother of Cora Crawley, Countess of Grantham.
3. American Horror Story (FX)
A haunted mansion inhabited by the likes of Emmy Award winner Jessica Lange was the season one theme of this creepy and kooky scripted drama. Season two currently features Lange as a nun at an institution for the criminally insane. Where she ends up in season three is anyone's guess.
4. Survivor: Philippines (CBS)
You take the good, you take the bad, you take them both and then you have the addictive combination this fall of three returning contestants (Jonathan Penner, Michael Skupin and Russell Swan), who left in their previous seasons due to injury, villainess Abi-Maria Gomes, and Facts of Life star Lisa Whelchel, who made the best TV comeback. Move over Amazing Race: It is time for another Emmy winner.
5. Modern Family (ABC)
Season three was another charm, with the best small screen ensemble since the days of "Must See TV" on NBC, and the third consecutive Emmy victory for Outstanding Comedy Series. But Ed O'Neill and Sofia Vergara were robbed at the Emmys this year.
6. Hatfields & McCoys (History)
The miniseries format was back with a vengeance thanks to this updated six-hour tale of the feuding families headlined by Bill Paxton and Emmy Award winner Kevin Costner.
7. The Big Bang Theory (CBS)
TV's most-watched, and funniest, comedy sent Howard (Simon Helberg) into space and Sheldon (Jim Parsons) and Amy (Mayim Bialik) closer to a good old-fashioned courtship. It gets better every week.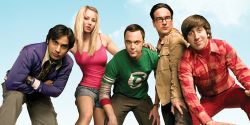 8. The Walking Dead (AMC)
What was actually generic and addictive in seasons one and two is suddenly addictive with substance (and chock full of more body parts). Corporate cousin Mad Men may have charmed the Emmy Awards, but now it is time for this monster hit to take center stage.
9. Game Change (HBO)
Emmy winner Julianne Moore did not just play Alaska Governor Sarah Palin, she became John McCain's 2008 running mate in this HBO made-for movie tale of McCain's presidential campaign.
10. The Voice (NBC)
Sunday Night Football on NBC was, no doubt, beneficial. But proof that one series can turn around the entire fortunes of one network is The Voice, which lifted the network to its first fall victory among adults 18-49 in 10 years. (Read Douglas Pucci's review of the third season of "The Voice") Coming up in March: new judges Shakira and Usher in place of Christina Aguilera and Cee Lo Green, who are taking a breather.
-Honorable Mention:
Breaking Bad (AMC), Fashion Police (E!), The Steve Harvey Show (syndication), Marie (Hallmark Channel), Raising Hope (Fox), Shark Tank (ABC)
To refresh your memory, here were our picks for the 10 worst shows of the 2012 (our TV TURKEYS published right before Thanksgiving): http://tinyurl.com/afj8mf4 as well as the individual "winners" of TV Turkeys, chosen by the members of TV Media Insights: http://www.tvmediainsights.com/?p=15075