Two MLB Division Series Conclude on a Positive Note for TBS
DECIDING SERIES GAMES DRAW SIZABLE AUDIENCES
By
Douglas Pucci
For the first time in the Division Series era of the Major League Baseball postseason (since 1995), all four series each went the maximum of five games. Two of those series concluded on Friday, October 12th and TBS reaped some ratings rewards.
Game 5 of the American League Division Series, which its start time was 5 p.m. Eastern and where the New York Yankees defeated the Baltimore Orioles 3-1 to advance to the A.L. Championship Series, averaged a 3.5 household rating and 5.066 million total viewers on TBS, according to Nielsen. The game averaged a 20.2 metered market rating in Baltimore and a 12.3 rating in New York.
In the nightcap, the defending World Champion St. Louis Cardinals came all the way back from an early 0-6 deficit to defeat the team with baseball's best win-loss record in 2012, the Washington Nationals, by the score of 9-7 in Game 5 of the National League Division Series to advance to the N.L. Championship Series. According to Nielsen, the game averaged a 3.7 household rating and 5.908 million total viewers – the largest audience for an MLB postseason game in 2012 so far.
2012 NLDS Game 5 averaged a 29.8 metered market rating in St. Louis, making it the highest-rated MLB game ever on TBS in that market. In Washington, D.C., it did a 16.7 rating – the highest-rated Division Series game ever in that market.
An average of a 20.0 metered market rating was delivered in each the St. Louis and Baltimore markets for all five games of their respective series.
In primetime, TBS ranked second (behind CBS) among all networks (broadcast and cable) in viewership.
Turner Sports on Twitter at: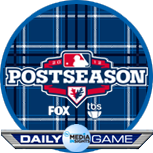 If you're a member of the TV Media Insights forum, you may participate in guessing the viewership and Adults 18-49 demographic rating for each of the available baseball entries at the TVMI Daily Game from October 5 thru November 1. The Top 3 Daily Game performers of this month's baseball entries will receive special MLB Postseason graphics for the forum, as seen above.