Tuesday, June 26, 2012
Today in TV History
Cher and Sonny Bono divorced in 1975, both stars eventually floundered hosting their own variety shows, and the magic was gone, so to speak, when they reunited professionally for The Sonny and Cher Show in 1976.
In Today's Issue
NETWORK
-Metered Market Monday Ratings
-Updated Sunday Ratings
CABLE
-Daytime Emmy Awards Breaks the Record Books on HLN
-Respectable Sampling for The Newsroom on HBO
-ASPiRE Presents ABFF Independent
-Paige Davis to Host Home & Family on Hallmark Channel
-WWE Main Event on ION
-Above Average Army Wives
-Roseanne Gets Roasted
SCHEDULE BOX
-On the Air Tonight
TRIVIA CHALLENGE
-Party Time!
________________________________________________________________________

SPONSORSHIP OPPORTUNITIES ARE AVAILABLE AT TV MEDIA INSIGHTS
Contact Joel Spicola at joel@tvmediainsights.com or 720/323-4055 for more information.
________________________________________________________________________
NETWORK

Metered Market Monday Ratings
NBC Wins; The Glass House on ABC a Bust
Monday 6/25/12
Metered Market Results
Household
Rating/Share
NBC 4.9/ 8
ABC 4.5/ 7
Fox 3.8/ 6
CBS 3.5/ 6
CW 0.4/ 1
———-

-Percent Change from Year-Ago Evening – Monday 6/27/11
Fox: +31, NBC: +26, CW: no change, CBS: – 5, ABC: -17
———-
-Winners:
America's Got Talent (NBC), The Bachelorette (ABC), Hell's Kitchen (Fox), Masterchef (Fox)
-Losers (excluding repeats):
The Glass House (ABC)
———-

Ratings Breakdown:
America's Got Talent led NBC to Monday overnight victory, with a nine percent advantage over second-place ABC. Third overall was Fox, followed by CBS and almost invisible The CW. Both CBS and The CW aired all repeats.
In week two news, Big Brother clone The Glass House on ABC dipped to a last-place 2.5 rating/5 share in the overnights at 10 p.m. from its already lackluster 3.0/ 5 one week earlier (which translated into 3.98 million viewers and s 1.5 rating/4 share among adults 18-49, based on the Live Plus Same Day results). Retention out of the 9:30 p.m. portion of The Bachelorette was just 44 percent. Given the negative response to The Glass House, soon-to-return Big Brother on CBS is likely to only get stronger. Mark your calendars for Thursday, July 12 at 9 p.m. ET for the new season of Julie Chen and company.
Overall, The Bachelorette averaged a 5.6/ 9 from 8-10 p.m., which was on par with one year earlier. Here is the half-hour breakdown:
The Bachelorette (ABC)
8:00 p.m.: 5.6/ 9 (#1)
8:30 p.m.: 5.5/ 9 (#1)
9:00 p.m.: 5.5/ 9 (#2)
9:30 p.m.: 5.7/ 9 (#2)
On NBC, Olympic Trials: Swimming Finals, Day 1 opened with a respectable 4.8/ 8 in the overnights at 8 p.m. (#2), leading into summer's top pick, America's Got Talent, at a dominant 6.5/10 at 9 p.m. Although lead-out American Ninja Warrior dipped to second with a 3.5/ 6 at 10 p.m., the variation among adults 18-49 out of AGT will be smaller.
Elsewhere, Fox finished third overall in the overnights care of Hell's Kitchen (#3: 4.0/ 7) and Masterchef (#3: 3.7/ 6), which will likely result in a mid-2 rating among adults 18-49. For an early summer, consider these "winning" performances. CBS has nothing unusual to report with encore telecasts of How I Met Your Mother (#4: 2.9/ 5), 2 Broke Girls (#4: 3.2/ 5), Two and a Half Men (#3: 3.7/ 6), Mike & Molly (#4: 3.3/ 5) and Hawaii Five-O (#1: 4.1/ 7). And The CW capped off the evening with encore telecasts of Breaking Point (#5: 0.5/ 1) and 90210 (#5: 0.2/ 0), which plummeted to a 0 household share….again.
Source: Nielsen Media Research
—————
OTHER NETWORK NEWS
Updated Sunday Ratings
With only 60 Minutes on CBS and Olympic Trials: Track & Field Finals, Day 1 and Dateline on NBC of an original nature, the fast affiliate results for Sunday, June 24 were, no doubt, lacking. CBS was the most-watched network at 5.71 million viewers (1.10 million more than second-place NBC), while the Peacock net was first among coveted adults 18-49. 60 Minutes topped the night in total viewers, with 8.09 million; while each of the four hours on NBC (including a two-hour encore of America's Got Talent from 9-11 p.m.) won their time periods with a 1.2 rating in the demo.
For a complete listing by network and by individual program, click on the following: http://tinyurl.com/cxu2utn.
Source: Nielsen Media Research data
____________________________________________________________________________
CABLE
Daytime Emmy Awards Breaks the Record Books on HLN
It is a fraction of the prior deliveries on CBS, which most recently averaged 5.49 million viewers on June 19, 2011. But based on fast national data, The 39th Annual Daytime Emmy Awards in the Saturday 8-10 p.m. ET block on HLN scored 912,000 viewers — the most-watched, regularly scheduled non-news broadcast in the cable news net's history. The premiere telecast, additionally, lifted HLN to its second most-watched Saturday ever.
The debut Daytime Emmys broadcast on HLN plus four encore airings (Saturday, June 23: 10 p.m. ET; Sunday, June 24: 8 p.m. ET, 10 p.m. ET and 12 a.m. ET) totaled 2-million total viewers and 677,000 adults 25-54.

Respectable Sampling for The Newsroom on HBO
HBO is reporting 2.1 million viewers for the series-premiere of scripted drama The Newsroom on Sunday at 10 p.m. ET, which places it third overall (behind the debuts of Boardwalk Empire and Game of Thones) among the seven drama-openers on the paid cable network since 2008. Take a look:
HBO Drama Series Premieres Since 2008
-Boardwalk Empire (9/18/10: 9 p.m. ET): 4.8 million
-Game of Thrones (4/17/10: 9 p.m. ET): 2.2 million
-The Newsroom (6/24/12: 10 p.m. ET): 2.1 million
-True Blood (9/07/08: 9 p.m. ET): 1.4 million
-No. 1 Ladies Detective Agency (3/29/09: 8 p.m. ET): 1.3 million
-Luck (1/29/12: 9 p.m. ET): 1.1 million
-Treme (4/11/10: 10 p.m. ET): 1.1 million
Combined with the 513,000 viewers who tuned in for the encore at 11:15 p.m. ET, The Newsroom was sampled by over 2.6 million viewers. The season-premiere of lead-in True Blood was significantly stronger, however, with 4.7 million viewers at 9 p.m. ET (and just over 5-million viewers if you include the 324,000 for the encore telecast at 12:30 a.m. ET).
ASPiRE Presents ABFF Independent
ASPiRE, the new African-American cable network from Magic Johnson Enterprises, has announced its first original series, ABFF Independent. Hosted by actor Omari Hardwick (Sparkle, Dark Blue), ABFF Independent will present the best independent shorts, feature films and documentaries from emerging black artists. It launches tomorrow with back-to-back episodes beginning at 8 p.m. ET.
Paige Davis to Host Home & Family on Hallmark Channel
Former Trading Spaces host Paige Davis will return to her hosting roots opposite Mark Steines on upcoming Hallmark Channel weekday lifestyle series Home & Family. Set to debut on Monday, October 1, Home & Family is described as a destination for home improvements, crafts, parenting tips, lifestyle, and health and fitness issues. It will air weekdays in a two-hour block. Davis currently hosts Home Made Simple on OWN.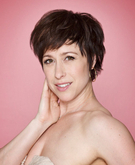 WWE Main Event on ION
WWE and ION Television will introduce WWE Main Event, a new one-hour weekly series featuring WWE Superstars and Divas from the rosters of Monday Night Raw and Friday Night Smackdown. Mirroring the two, WWE Main Event will offer a big arena experience with live audiences. It will air on ION Television in the Wednesday 8 p.m. hour and debuts on October 3.
Above Average Army Wives
Original Lifetime drama Army Wives returned after a five-week break on Sunday with 3.3 million viewers at 10 p.m., which was a 10 percent increase from the current season average. Results demographically were up by as much as 20 percent among women 25-54 (1.2 million).
Roseanne Gets Roasted
Former sitcom Queen Roseanne Barr, who's much ballyhooed pilot Downwardly Mobile was not picked-up by NBC, will be the subject of The Comedy Central Roast of Roseanne, which will tape in Los Angeles on Saturday, August 4 and will premiere on the cable network on Sunday, August 12 at 10 p.m. ET. "All I can say is good luck finding anything about me to make fun of," joked Roseanne. "I mean, I've never made a mistake or offended anyone in my life!"
Other personalities "roasted" by Comedy Central in the past include Pamela Anderson, David Hasselhoff, William Shatner, Charlie Sheen and Donald Trump.

_________________________________________________________________________
SCHEDULE BOX
Tuesday, June 26
ABC
8:00 p.m. Last Man Standing (R)
8:30 p.m. Last Man Standing (R)
9:00 p.m. Extreme Makeover: Weight Loss Edition (R)
CBS
8:00 p.m. NCIS (R)
9:00 p.m. NCIS: Los Angeles (R)
10:00 p.m. 48 Hours Mystery (R)
NBC
8:00 p.m. Olympic Trials: Swimming Finals, Day 2
9:00 p.m. America's Got Talent
10:00 p.m. Love in the Wild
Fox
8:00 p.m. Hell's Kitchen
9:00 p.m. Masterchef
CW
8:00 p.m. The Catalina
9:00 p.m. The L.A. Complex (R)

Of Note on Cable:
-The Real Housewives of Orange County (Bravo): 9 p.m. ET (season premiere)
-Craft Wars (TLC): 10 p.m. ET (series premiere)
Creative crafters compete against each other in a series of challenges for $10,000 in this new reality/competition. Tori Spelling hosts.
-Hollywood Treasure (Syfy): 10 p.m. ET (season finale)
-Retired at 35 (TV Land): 10 p.m. ET (season premiere)
_______________________________________________________________________________
TRIVIA CHALLENGE
Party Time!
If the Huxtable siblings threw a party and invited the kids from Father Knows Best, Bewitched, Good Times and the first season of The Facts of Life, how many people (including the Huxtables) would there be?
a) 15
b) 18
c) 20
d) 22
e) 25
Yesterday's answer was…
Which one of the following five dramas was canceled and brought back to life as a situation comedy?
a) Banyon
b) Big Shamus, Little Shamus
c) Lucas Tanner
d) Powers of Matthew Star
e) Tattingers
…e) Tattingers, which started as a drama set in a New York City restaurant on Oct. 26, 1988 and morphed into a comedy called Nick & Hillary in April 1989. Tattingers aired for nine episodes, with Nick & Hillary only two. Stephen Collins and Blythe Danner starred.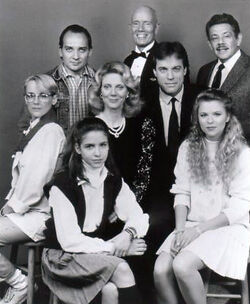 Today's Trivia All-Stars:
Gerry Bixenspan, John Brooker, Larry Collins, Tom Condosta, Harold Cooper, Mark Cosenza, Audrey Davis, Andy Ehlen, John Ferlazzo, Jim Forkan, Jerry Gibbons, Maureen Goldman, Ed Griffis, Bob Ingersoll, David Jackino, Synda Kollman, Paul Lewis, Jody McIntyre, Michael Murphy, Richard Naldrett, Barbara Oates, Aaron Paquette, Joe Pedri, Alan Perris, Greg Phelan, Gordon Purcell, Colleen Roth, Joe Rubi, Andrew Stearn, Ken Stowe, Carol Teichman
Marc Berman is the Editor in Chief for TV Media Insights, the online destination for television and media. Berman has appeared on camera for Extra, Entertainment Tonight, Access Hollywood, The CBS Evening News, CNN, and more; and his 2014 desk calendar, "Today in TV History," is presently available.