Respectable Sampling for The Taste on ABC
SPLIT TUESDAY LEADERSHIP BETWEEN ABC AND CBS
CBS led this fourth Tuesday in January despite airing all repeats care of its regularly scheduled line-up of NCIS, NCIS: Los Angeles and older-skewing Vegas. But ABC, which featured the two-hour debut of cooking competition The Taste, topped the evening among adults 18-49. The Taste opened with 6.04 million viewers (#2) and a dominant 2.2 rating/6 share among adults 18-49 from 8-10 p.m., according to the fast affiliate results from Nielsen. And it peaked in the 9:30 p.m. half-hour with a 2.4/ 6 in the demo. Next Tuesday, The Taste airs from 8-9 p.m.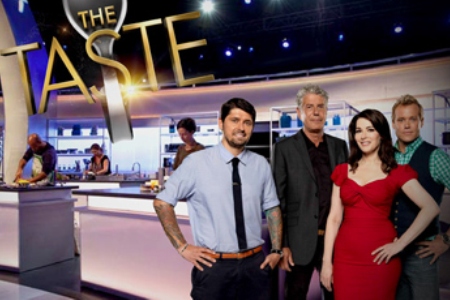 In series-finale news, four-and-one-half year old Private Practice on ABC (which did not benefit by moving away from its protected Grey's Anatomy lead-in last season) concluded with an uneventful (and second place) 5.22 million viewers and a 1.5/ 4 among adults 18-49 at 10 p.m. Competing Parenthood on NBC, which is a shoo-in for renewal, ended its abbreviated season with growth out of lead-in sitcom The New Normal of 1.52 million viewers (3.27 to 4.79 million) and 42 percent in the demo (1.2/ 3 to 1.7/ 5).
Elsewhere, Fox continues to lag courtesy of its two-hour live sitcom block. Hart of Dixie on The CW is not strong enough to anchor the evening. And once promising sitcom Go On on NBC continues to deteriorate minus its former (and future) The Voice lead-in.
Click on the following for the fast affiliate results for Tuesday, January 22 broken out by network and by program: http://tinyurl.com/axd7rb7.